TecCom Portal is the most advanced and simplified ordering interface in the market. Through this tutorial, we show you how to register your new TecOrganisation.

To register for the TecCom Portal as an administrator of an organization, you need to have a TecCom ID and corresponding password provided by the TecAlliance support. This unique ID and the password was assigned to you, when your organization was added as a customer to the TecAlliance Membership directory.
If you don't have these credentials, ask an existing administrator of your organization to create a new user account for you. You will be invited to the organization via e-mail and afterwards you will be able to activate your user account and login to the TecCom Portal.
If your organization has not been registered as a TecAlliance customer please click I don't have a TecComID button on the registration page.
The TecCom ID and password for your organization are your "key" for the use of TecCom Portal and entitles you to free use of the TecCom Portal.
Please keep your TecCom ID and password in a safe place and protect these credentials against unauthorized access!
To register as an administrator, after obtaining your TecCom ID and password from TecAlliance customer support, you need to:
Click Register button on the TecCom Portal Login page
Enter your TecCom ID and the Password and select Next in order to verify your identity in the TecAlliance system.

After successful verification your organization details, which is saved in the TecAlliance system, is displayed. You can now configure automatic document retrieval for your organization by toggling the Download Reverse Messages button.
Note! When this is turned on, your reverse messages are no longer retrieved by the TecLocal!.
Enter your Email address, which is going to be used as your username in the TecCom Portal.
Confirm you Email address and click Next.

The TecCom Portal verifies the email address and distinguishes between two cases:
I.) You do not have a user account in the TecCom Portal.
In this case you need to fill in the form with your personal data: First name, Last name, Telephone, Language, Culture and Time zone and then select Next.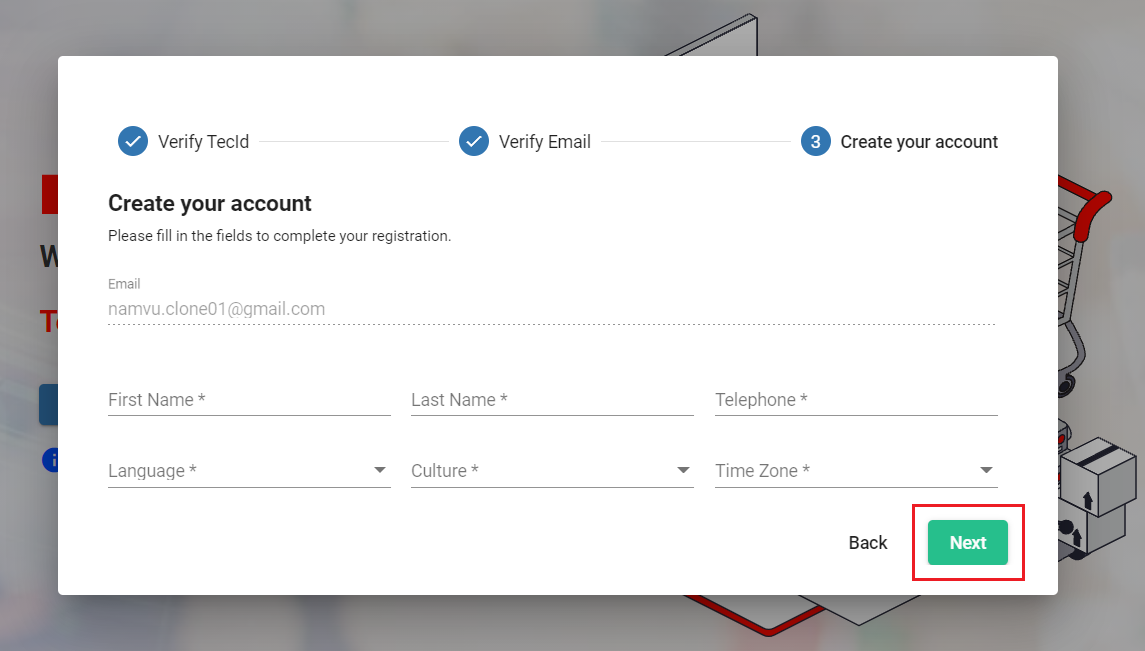 After completing this step, an email is sent to your email address with a confirmation link. You should follow the link to confirm your email address and to set your password for the TecCom Portal.
Note! If you did not receive a confirmation email in your inbox, please check your spam folder.
After you saved your personal password, your user account will be activated and you will be able to log in to the TecCom Portal using your email address and newly created password. The organization that you've just registerd for, will be added to your list of organizations and you will be assigned as an administrator.
II.) You already have a user account registered in the TecCom Portal which is assigned to another organization
In this case the organization that you've just registered for, is added to your list of organizations and you are asigned as an administrator.
Alternatively you can add an organization to your account in the TecCom Portal under Administration > Organizations. That way you will also be automatically assigned as an administrator to the organization. For more details see Administration Organizations.
After the successful registration you can login to the TecCom Portal Portal. See the Quickstart guide: Simple request and order for more details.