TecCom Portal allows us to add and manage users for our TecOrganization, and also to customize the access for each of them.

For login issues, please visit: Known Login Issues.
To access user management choose Admistration > Users in the navigation menu. This menu item is available only if you have administrator role in the organization that is selected and displayed beside your user name in the upper, right corner.
In the TecCom Portal two different user roles are offered:
Depending on the role assigned, the user has role-specific default permissions. For example, menu items are displayed or certain features are permitted depending on the role of the user. Additionally for User role the permissions can be customized per organization.
You can adapt the TecCom Portal to your corporate structure by freely deciding on the allocation of users and administrators in the organizations. Different constellations can be mapped. For each organization, a separate TecCom ID is required.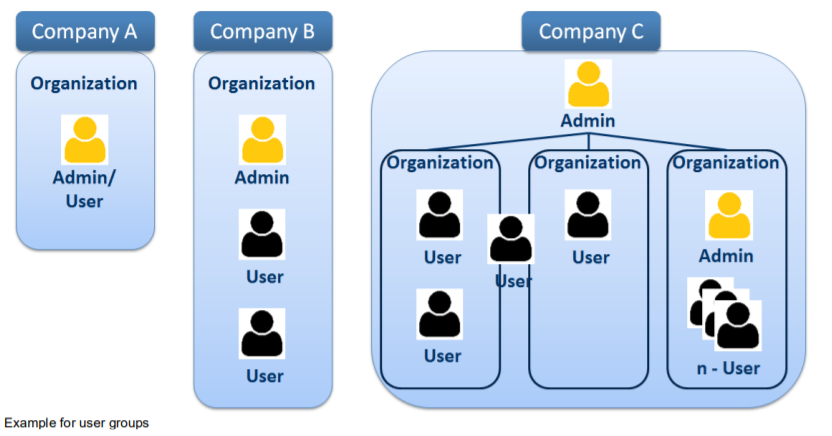 In the User management view an administrator can:
view a list of all users belonging to your organization
view and modify user profile
administer user roles and permissions
add a new user to your organization
add multiple users to your organization by importing user list from a csv file
remove a user from an organization
List of users provides an overview of all users who belong to your selected organization with their personal data, emails and phone numbers. In the Organizations column you can see to which other organizations, where you have an administrator role, the user belongs to. An administrator icon displayed beside the organization name indicates that the user has an administrator role in that organization.
For easier access to a desired user profile filtering and sorting functionalities are provided in each column. Also, you can customize the number of entires that will appear on the page by selecting the number of displayed rows at the bottom of the list.

Each administrator in an organization can add new users to the organization.
To add a new user, you need to:
Click +Add User button on the List of users.


2. Enter the Email address of the new user. To avoid a wrong entry of email address retype it and afterwards select Next.

Enter personal data of the new user: First name, Last name and Telephone.
Select: Culture for date-time and number formats, user's Time zone and Language that will be used for correspondence with the user.
Finally, select Role and Permissions. Please note, if you assign an administrator role to the user, all permissions are automatically granted to the user and they can not be removed. For User role it is possible to make selection of specific permissions. The following permissions can be set for the user: Show List Prices, Show Net Prices, Show received documents, Show journal, Show transactions, Show request and order and Show e-invoices.
Choose Save when done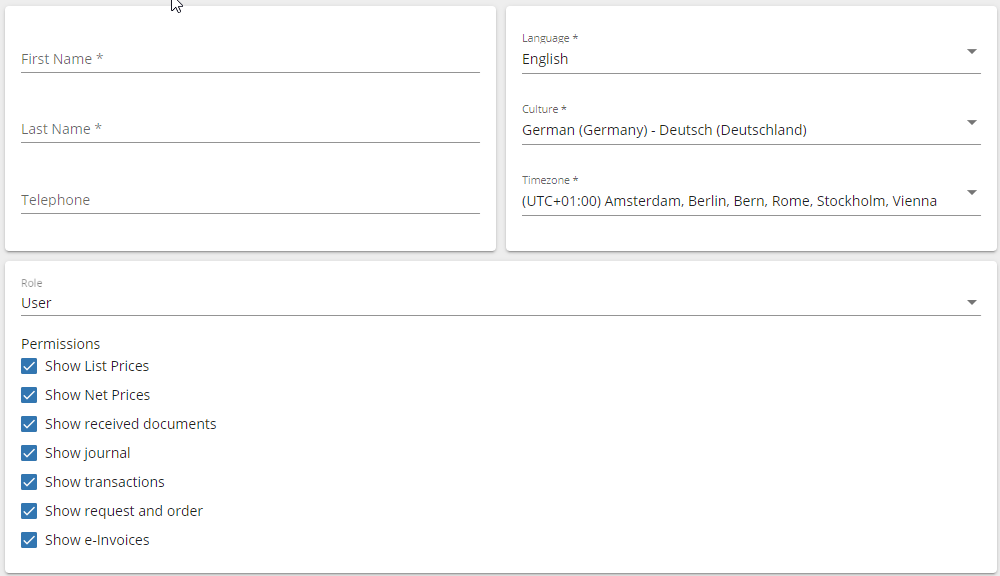 The TecCom Portal also gives administrators possibility to add multiple users (up to 100 users) to an organization at the same time. This can conveniently be done by importing the user list from a csv file.

To import users from a csv file, you need to:
Simply download a csv template, fill it with required data: email, first name, last name and telephone (optional) and save it locally. (It can contain up to 100 users with unique email addresses.)
Click Select import file button to locate and upload your import file. If the upload is successful, you will be presented with the list of all users from the import file. If the upload was not successful (for example if you have no data in the import file, or your import file is incorrectly formatted), you will receive a message indicating what might have gone wrong. If during the upload process, the TecCom Portal detects that you are trying to import a user which already exists in the organization that user will be displayed with a red error exclamation mark and will not be imported.
Review and configure user settings (Language, Culture, Timezone, Role and Permissions) which will be used for all successfully imported users
After reviewing uploaded users and their user settings select Save.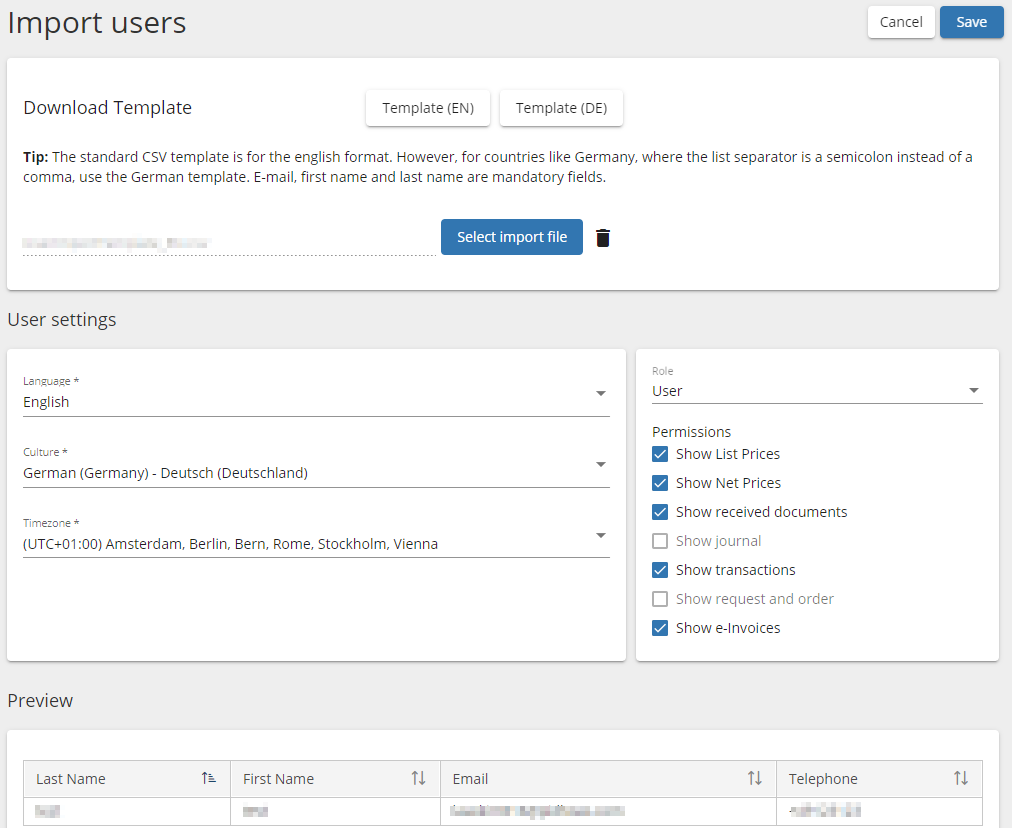 An Administrator of an organization has possibility to see detailed information of each user who belongs to his organization by clicking on a user entry in the List of Users.
In the Details of user view, if you have an administrator role you can:
view and update user personal data such as First name, Last name, Telephone
view and update Culture and Time zone
view to which other organizations, where you have an administrator role, user is assigned to
customize user-specific role and permissions
remove a user from an organization
Simply if you have made any changes to the user settings, confirm with Save.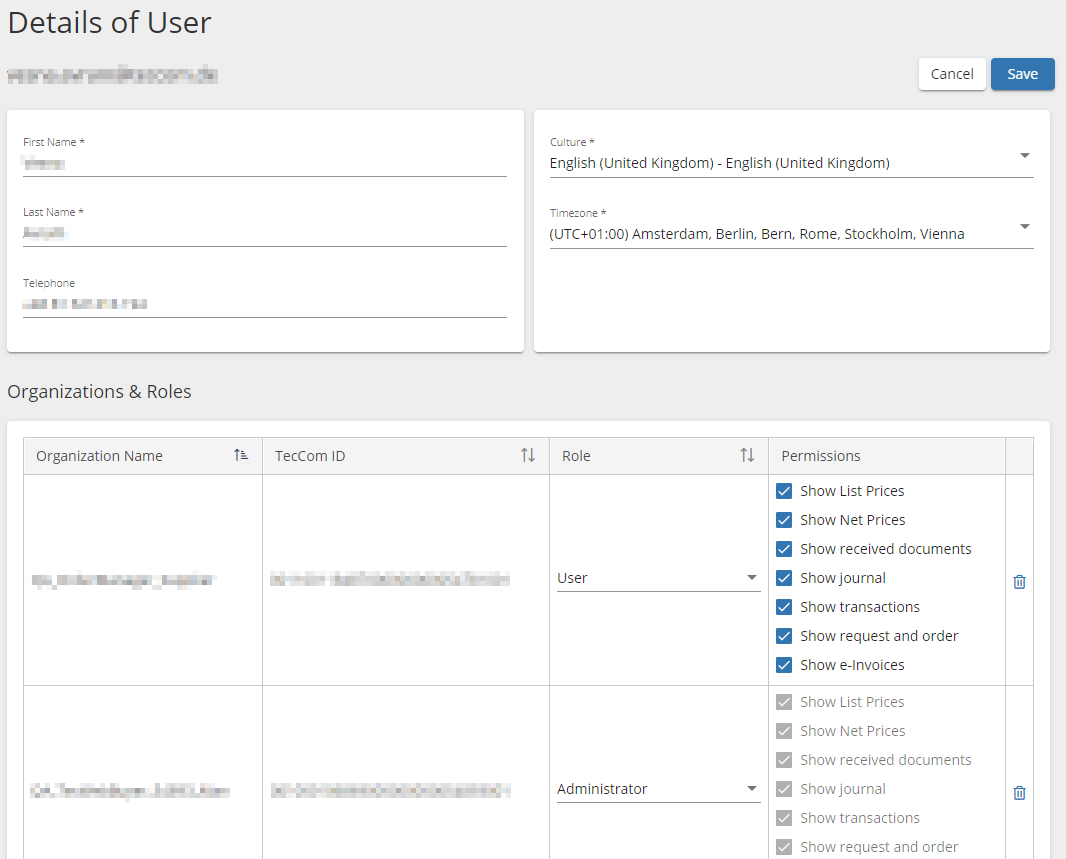 In order to remove a user from an organization, an administrator has to open the Details of user view, and in the Organization & Roles section click on button for the selected organization.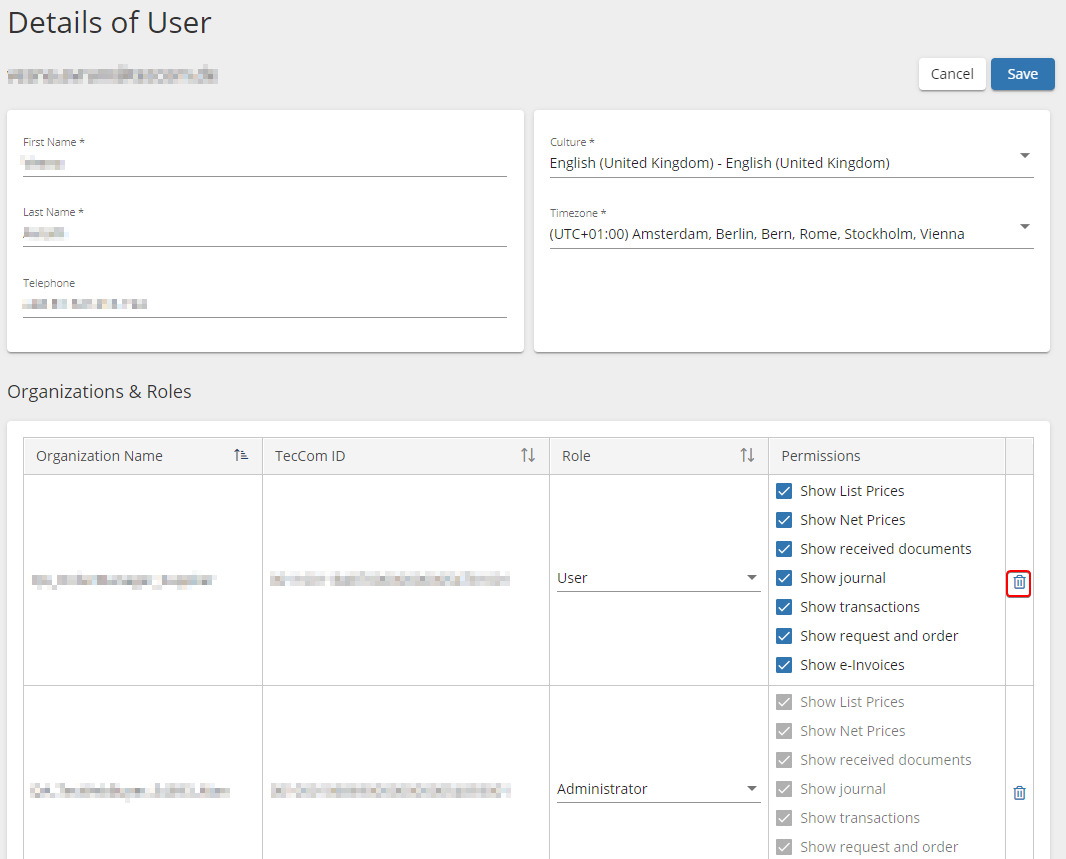 Note! When you delete the last organization that has been assigned to a user, his user profile will be removed from the TecCom Portal. If a deleted user wants to regain access to the TecCom Portal, the user must be created again as a new user.